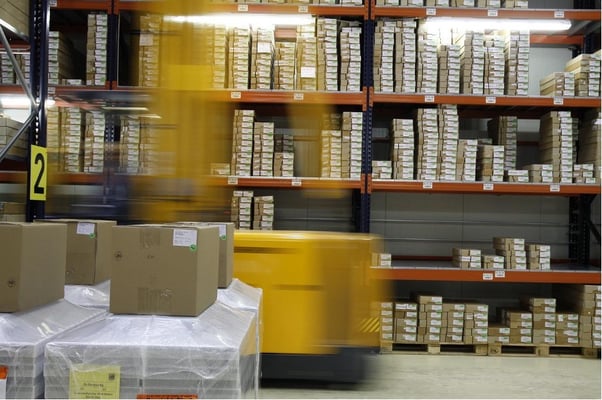 If your UK enterprise involves the movement or handling of consumer goods or equipment, then some form of storage facility or warehouse space will be an integral part of your business infrastructure. This applies to organisations of all types, sizes and locations – whether you're based in a big city like London or have warehouse space in the provinces.
Why Warehouse Properties are Important to UK Businesses
Shippers of consumer items in the UK require warehouse space for the storage and distribution of products. Manufacturing firms need industrial properties with storage space for machinery and finished goods. Supply chain organisations such as logistics service providers (LSPs) must have enough warehouse space to meet the distribution needs of all the UK businesses whose customers rely on their work.

While large-scale firms may have the resources to construct or own their warehouse space, small to medium-sized enterprises (SMEs) may need to rely on warehouse rental spaces. Even larger concerns may have to rent warehouse space to meet the requirements of their urban facilities in cities like London, as well as their regional offices.

With companies of all sizes potentially having to rent warehouse space, it's essential to know the correct criteria to consider in order to make the right choice of warehouse.

In this article, we'll be looking at the factors to consider when leasing warehouse spaces.
Look at Warehouse Needs in the Context of Your Business
Before initiating your search for warehouse spaces, spend some time to identify what your business requires from warehouse storage. Factors influencing your warehouse requirements may include the nature of your business (industrial, storing goods, etc.), its location (London and urban or rural) and your business growth strategy – for example, are smaller warehouses okay to consider for now or should you investigate larger warehouse properties that allow for expansion?
Consider the Warehouse Location
If yours is a London or city-based business with a largely urban clientele, you'll need to rent warehouse space which is conveniently positioned in relation to major transport routes and customer centres.

Depending on where you are in the UK, you may have to take into account any local zoning laws or building codes that apply. These regulations can potentially affect how much inventory or equipment you can keep in storage and whether certain activities are permitted on the warehouse premises.

Wherever you are in the UK, you'll need to find a warehouse space in a location that minimises response or delivery times to your customers. This is especially important in an age when customers now routinely expect same-day delivery and same-day response to any issues or queries they may have.
Decide on the Warehouse Amenities You Need
UK organisations in the industrial production and consumer goods sectors may need warehouse space that has loading docks with access and equipment for moving products to storage areas. Businesses of this type may also need to consider whether the warehouse properties on offer can provide adequate turning space and road access for delivery trucks and other vehicles.

From an infrastructure standpoint, there may be other amenities that influence your choice of warehouse space. These might, for example, include the provision of warehouse equipment, offices, conference rooms, employee meeting spaces, secure Wi-Fi and on-site security.
Consider the Size of Warehouse that You Require
Ideally, you should rent warehouse space with storage capacity and square feet (sq. ft) of floor sufficient for both your current business needs and the possibility of future expansion. You should, however, avoid signing a lease for warehouse space that's too large, as this may impose overhead and other costs (space heating, ventilation, etc.) that put an unnecessary strain on your budget.

Decide on how long you would like to occupy the warehouse space. On this basis – and taking into account other factors such as operational requirements – you can settle on renting a warehouse that's of a size that suits your business.
Consider the Costs Involved in Renting the Warehouse
A number of factors will contribute to the cost of renting a warehouse. They include the size, location, features and amenities of the warehouse space. In addition, things like insurance fees, maintenance fees, transport and shipping costs can add to the cost of your warehouse lease.

To get an accurate cost assessment for a particular warehouse space, you'll need to carefully inspect and investigate all the factors involved.
Research and Visit the Warehouse Facility Beforehand
If the warehouse space is conveniently close to your current location in the UK, you can perform an on-site inspection of the storage facility, to get a first-hand look at what's on offer.

Alternatively, you can use the internet to conduct a virtual investigation of warehouse properties. There are commercial property, warehouse and storage facility websites that describe various industrial properties, warehouse properties and commercial property options. Some have contact forms you can use to reach out to a facility directly for more detailed information.

Look for information regarding the costs of renting industrial units or warehouse space, fees associated with the lease, the number of sq. ft of floor and storage space available, the amenities on offer and timelines for lease agreements.
Look at the Contract Terms and Lease Agreement Fine Print
Before signing the lease agreement for industrial units or warehouse space, you or a representative of your business should carefully read the lease and understand all of its terms and conditions. Important things to look out for include the duration of the warehouse lease, options for renewing the warehouse rental agreement, how rent increases are handled and who has responsibility for maintenance and upkeep of the warehouse and its associated facilities.

To protect all parties to the lease agreement and avoid the possibility of future disputes, manufacturers, wholesalers and others looking to rent warehouses need clarity on all aspects of the requirements for storing goods in the warehouse, such as volume, duration, certification requirements, etc.

UK businesses looking to rent warehouse space should also negotiate and agree upon all aspects of the required warehousing services. In cases where a third-party warehouse service provider is involved, businesses renting a warehouse should understand the supplier's ways of working and check their service performance references.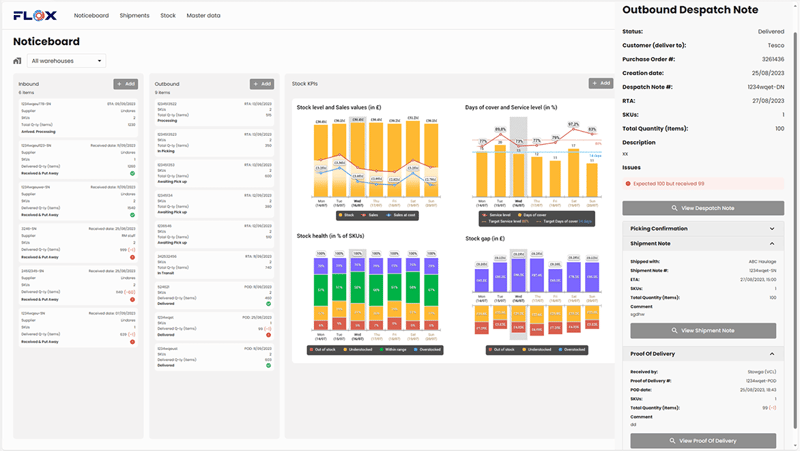 [Image source: FLOX]
Here at FLOX, we are dedicated to promoting the effective use of shared transportation and warehousing logistics capacities, optimising the flow of every order and shipment. We believe in simultaneously solving the service, profitability and environmental challenges faced by all stakeholders, including shippers and logistics service providers.

Our platform enables shippers and logistics service providers to collaborate seamlessly, driving efficiency, cost savings and sustainability – whether it's moving goods along the supply chain or finding the best warehouse space rental options for your UK business.
With FLOX, there's no need to sign leases directly with warehouse owners, or negotiate terms. Instead, our clients sign a standardised set of three-way Terms and Conditions between warehouse provider, FLOX, and themselves, which regulates pay-as-you-go use of the warehousing space.

To try it out with no monthly fees, sign up for FLOX platform access and start shaping the future of logistics today.